Paul's Journey Tour
February 28 — March 1, 2006
A few years ago, while teaching in Istanbul, Turkey, I visited ancient Ephesus with a few ministry friends. That trip made such an impression on me that I determined if I ever had the opportunity to lead a group of pastors there, I wanted to do it. On February 28, Lisa and I began a journey, with 29 in our group, to visit not only Ephesus, but several other places associated with the ministries of Paul and John.
We didn't only see the ruins of ancient cities on this tour, but most importantly, we examined Scripture and other historical sources to deepen our understanding of Paul and John's ministries and the development of early Christian congregations. We looked at the cultures in which early New Testament ministry occurred and studied the types of opposition they faced, as well as the principles that made them effective.
Pictures cannot be taken inside of Saint Mark's Basilica, but this picture is from the front of this famous church. The winged lion is the symbol of Mark, and it is seen in various places throughout Venice.   Venice (Italy)
Venice was our first stop on the trip. Though this historic city is not mentioned in the Bible, the Apostle Mark stayed in a nearby town called Aquilea after he had left Rome following the death of Peter and Paul. Following his own effective ministry and martyrdom in Alexandria, Egypt, Mark was buried there. In the year 828, two Venetian merchants learned that the church where Mark was buried was going to be destroyed to make room for the construction of a mosque, and they took his body to Venice. In order to avoid Muslim detection, tradition says they transported his remains in a tub of pickled pork.
It is unfortunate that Mark is most frequently associated with his defection from Paul and Barnabas (Acts 13:13), as he later developed into a fine minister of the gospel, and was a great asset to both Peter and Paul. Peter referred to, "Mark, my son" (1 Peter 5:13). Paul and referred to him as a fellow-laborer and as a fellow-prisoner, and said that Mark was "useful to me for ministry" (2 Timothy 4:11).
It is widely believed that the gospel Mark wrote was a collection of the stories he had heard Peter tell during his time with the great Apostle. Some of the early church fathers related that Peter approved Mark's gospel and published it to the churches to be read by his authority.
In Romans 16:23, Paul refers to Erastus as the city treasurer of Corinth. In 1929, during some archaeological work in Corinth, a first-century pavement stone was uncovered and discovered to contain the following inscription: "Erastus, in return for the office of Public Works Commissioner, laid this pavement at his own expense." This is a picture of that stone that many scholars believe likely refers to the same city official that Paul mentioned.   Corinth (Greece)
Our ship docked in Patras, Greece, and we boarded a bus for a trip to the ruins of ancient Corinth. In Paul's day, Corinth was not only the most important trade city in Greece, but it was also the most decadent city in the world. Whenever a Corinthian was portrayed in a Greek play, he was always drunk. The Acrocorinth, a massive hill towering over the city, was home to the Temple of Aphrodite, and sexual immorality was a part of religious life in Corinth. The Temple of Apollo and other pagan temples were also active in Corinth in Paul's time. New believers in this city experienced significant challenges in growing spiritually because of that corrupt environment and their backgrounds in that culture.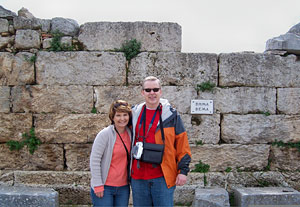 Tony and Lisa are standing in front of the "bema," the judgment seat in Corinth where Paul stood before the Roman proconsul, Galio
(Acts 18:12-16).