Zambia, Africa Report
Missionaries Walker and Haley Schurz (www.africaoutreach.org) hosted an excellent five-day conference attended by 592 church leaders (the vast majority of them were pastors). It was an absolute joy teaching these hungry and gracious ministers. While most of these ministers were from Zambia, others came from South Africa, Botswana, Malawi, Zimbabwe, and the Democratic Republic of Congo.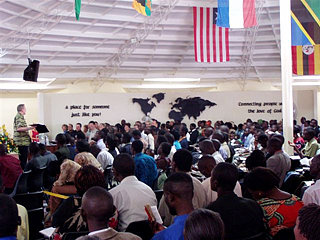 Pictured above, from left to right, are: Andrew and Tony, Pastor John Nuzzo and his son, Ryan, Missionaries Walker and Haley Schurz, Evangelist Christopher and Britta Alam. These four men taught at the pastors' conference.
Pictured above with Tony are ministers who are helping Walker and Haley. In the back row, next to Walker and Haley are Stephen and Jennifer McMichael. In the front row are Steve and Cindy Shoop. Cindy coordinates the worship team at Miracle Life Family Church in Lusaka, and together they head up a Bible School. Next to the Shoops are Kent and Laura Meeks. Together, these missionaries are doing a great work!
Tony's son, Andrew, thoroughly enjoyed the trip, and he was able to serve in many ways while there. He sang both in the youth service and in the adult church service, did street witnessing, visited an orphanage, and worked in the children's crusade. Here is a copy of an e-mail he sent Lisa from Zambia:
Hi Mom,
I got malaria. Ha Ha. Just kidding. Africa is beautiful! The stars are wonderful and the people here are very nice. This is probably the best trip I have ever had in my life! I have gotten to go to a bunch of crusades and I've gotten to see miracles left and right. It's hard to realize that all these amazing things happen, but they do! I went on a street evangelism trip here in the downtown area and it could not have been better. I was paired with a guy named Ben and he is really cool. We used every second of our time we had talking to big groups of people and handing out flyers and praying the salvation prayer with them. It could not have gone any better!
The number one best thing that I have found in the world is here in Africa. It is when the hundreds of kids at the kids crusades during the day repeat the salvation prayer in their native language. You would definitely cry! This trip has helped me realize sooo many things about God and life in general and it has been a huge blessing. Sorry I have not written more. I'm just soaking up Africa as much as possible.
Love you Mom.
Andrew
One of our highlights was attending the evening evangelistic crusades conducted by Christopher Alam and his team. There we saw thousands of precious Africans receiving salvation, the infilling of the Holy Spirit, and healing. Christopher was born a Muslim in Pakistan, he was later born-again, and trained for the ministry at RHEMA. He currently travels the world holding powerful crusades in many countries, and also ministering at churches in the States.